So, last night Hubby gets home and has a little surprise for the Monkey, she of course is thrilled beyond belief! Then he tells me to go look in the bed of the truck, that there is also a little something for me. Woohoo! So of course I go traipsing outside to see what I have. In the back of the truck is this little beauty!
Here is the finished product! It will look so nice hanging in my living room!! I'm trying to decide if I should add some knobs to the bottom so I could potentially hang some dried flowers from it, or maybe something else, what do you all think? Please let me know!
Melissa
Here are the parties I'll be linking to today.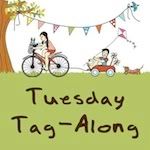 I will also be linking to the
Thrifty Decor Chick: Before and After Party
Check out some of the awesomeness!

href="http://www.debbie-debbiedoos.blogspot.com/">
>