Thought I would show you a sneak peek of one thing in my living/dinning room today.
This is a dresser Hubby bought at an auction a while back, I wasn't quite sure why he bought it. I thought we really had no need of a dresser, just goes to show I shouldn't doubt Hubby's buys! After a bit I realized I was going to snag that dresser and use it in our living room. I wanted something next to the front door that could be a mini "mud room". You know, a place to drop the mail, kick off dirty shoes, drop your phone, purse, etc. We don't have a mud room, wish we did some days! So, here is the dresser before.
Two coats of Kilz primer, and three coats of white paint later, and this is what I have now!
I left the knobs with the original finish, and I love the contrast with the white. Remember that serving tray? Yeah, showed that to you a couple weeks ago, it is working out wonderfully as a place to stick the mail Hubby brings home at night! It is so nice to have it all in one place!!
So, my total cost? $5. Yep, that's all. Hubby picked up the dresser for $5 at an auction, gotta love it!! The paint and primer were things I had on hand, so no cost there. I hope you are having a great week! It is almost over!! Looking forward to this weekend, hopefully, if it doesn't rain too much, I'll have a couple things to show you next week!
Melissa
Linky parties: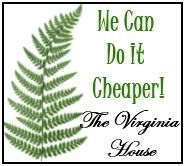 Just Because I Love It! By Tools Are For Women Too!
Transformation Thursdays @ The Shabby Chic Cottage
Furniture Feature Friday @ Miss Mustard Seed